Have you ever had feelings of helplessness and hopelessness because you see no solution to your situation and there is nowhere to turn? This was the plight of Naomi and Ruth as they left Moab and returned to Bethlehem. But despite their circumstances Ruth made redemptive choices that impacted their future.
Ruth Chapter 2:
1 Now Naomi had a relative on her husband's side, a man of standing from the clan of Elimelek, whose name was Boaz. 2 And Ruth the Moabite said to Naomi, "Let me go to the fields and pick up the leftover grain behind anyone in whose eyes I find favor." Naomi said to her, "Go ahead, my daughter."

3 So she went out, entered a field and began to glean behind the harvesters. As it turned out, she was working in a field belonging to Boaz, who was from the clan of Elimelek. 4 Just then Boaz arrived from Bethlehem and greeted the harvesters, "The Lord be with you!" "The Lord bless you!" they answered (Ruth 2:1-4).
5 Boaz asked the overseer of his harvesters, "Who does that young woman belong to?" 6 The overseer replied, "She is the Moabite who came back from Moab with Naomi. 7 She said, 'Please let me glean and gather among the sheaves behind the harvesters.' She came into the field and has remained here from morning till now, except for a short rest in the shelter."

8 So Boaz said to Ruth, "My daughter, listen to me. Don't go and glean in another field and don't go away from here. Stay here with the women who work for me. 9 Watch the field where the men are harvesting, and follow along after the women. I have told the men not to lay a hand on you. And whenever you are thirsty, go and get a drink from the water jars the men have filled." (Ruth 2:5-9)
10 At this, she bowed down with her face to the ground. She asked him, "Why have I found such favor in your eyes that you notice me—a foreigner?" 11 Boaz replied, "I've been told all about what you have done for your mother-in-law since the death of your husband—how you left your father and mother and your homeland and came to live with a people you did not know before. 12 May the Lord repay you for what you have done. May you be richly rewarded by the Lord, the God of Israel, under whose wings you have come to take refuge." (Ruth 2:10-12)
13 "May I continue to find favor in your eyes, my lord," she said. "You have put me at ease by speaking kindly to your servant—though I do not have the standing of one of your servants." 14 At mealtime Boaz said to her, "Come over here. Have some bread and dip it in the wine vinegar." When she sat down with the harvesters, he offered her some roasted grain. She ate all she wanted and had some left over (Ruth 2:13-14).
15 As she got up to glean, Boaz gave orders to his men, "Let her gather among the sheaves and don't reprimand her. 16 Even pull out some stalks for her from the bundles and leave them for her to pick up, and don't rebuke her." 17 So Ruth gleaned in the field until evening.

Then she threshed the barley she had gathered, and it amounted to about an ephah. 18 She carried it back to town, and her mother-in-law saw how much she had gathered. Ruth also brought out and gave her what she had left over after she had eaten enough (Ruth 2:15-18).
19 Her mother-in-law asked her, "Where did you glean today? Where did you work? Blessed be the man who took notice of you!" Then Ruth told her mother-in-law about the one at whose place she had been working. "The name of the man I worked with today is Boaz," she said. 20 "The Lord bless him!" Naomi said to her daughter-in-law. "He has not stopped showing his kindness to the living and the dead." She added, "That man is our close relative; he is one of our guardian-redeemers. 21 Then Ruth the Moabite said, "He even said to me, 'Stay with my workers until they finish harvesting all my grain.' " (Ruth 2:19-21)
22 Naomi said to Ruth her daughter-in-law, "It will be good for you, my daughter, to go with the women who work for him, because in someone else's field you might be harmed." 23 So Ruth stayed close to the women of Boaz to glean until the barley and wheat harvests were finished. And she lived with her mother-in-law (Ruth 2:22-23).
In chapter 2 we can observe that Ruth's life revealed:
Faith

Humility

Dependence on God
As we look at the narrative, we see in chapter 2 that after 10 long years, Naomi is returning to her hometown with her daughter-in-law Ruth with no husband, no sons, no money, no property, and no belongings.
But Ruth possessed a faith that was not evident to Naomi at the time. As it turns out they providentially arrived at the beginning of the barley harvest, which is the first harvest of the spring season. So Ruth said to Naomi, "Let me go out into the fields to pick up the grain left behind anyone who is kind enough to let me do it." According to the laws that God gave Moses in the OT books of Leviticus and Deuteronomy, farmers were not supposed to pick their fields clean during harvest time.
The edges of the field were to be left for the poor to glean from and the farmers were not to even pick up what the harvesters dropped so it could be left for those in need (Leviticus 19:9; Deuteronomy 24:19).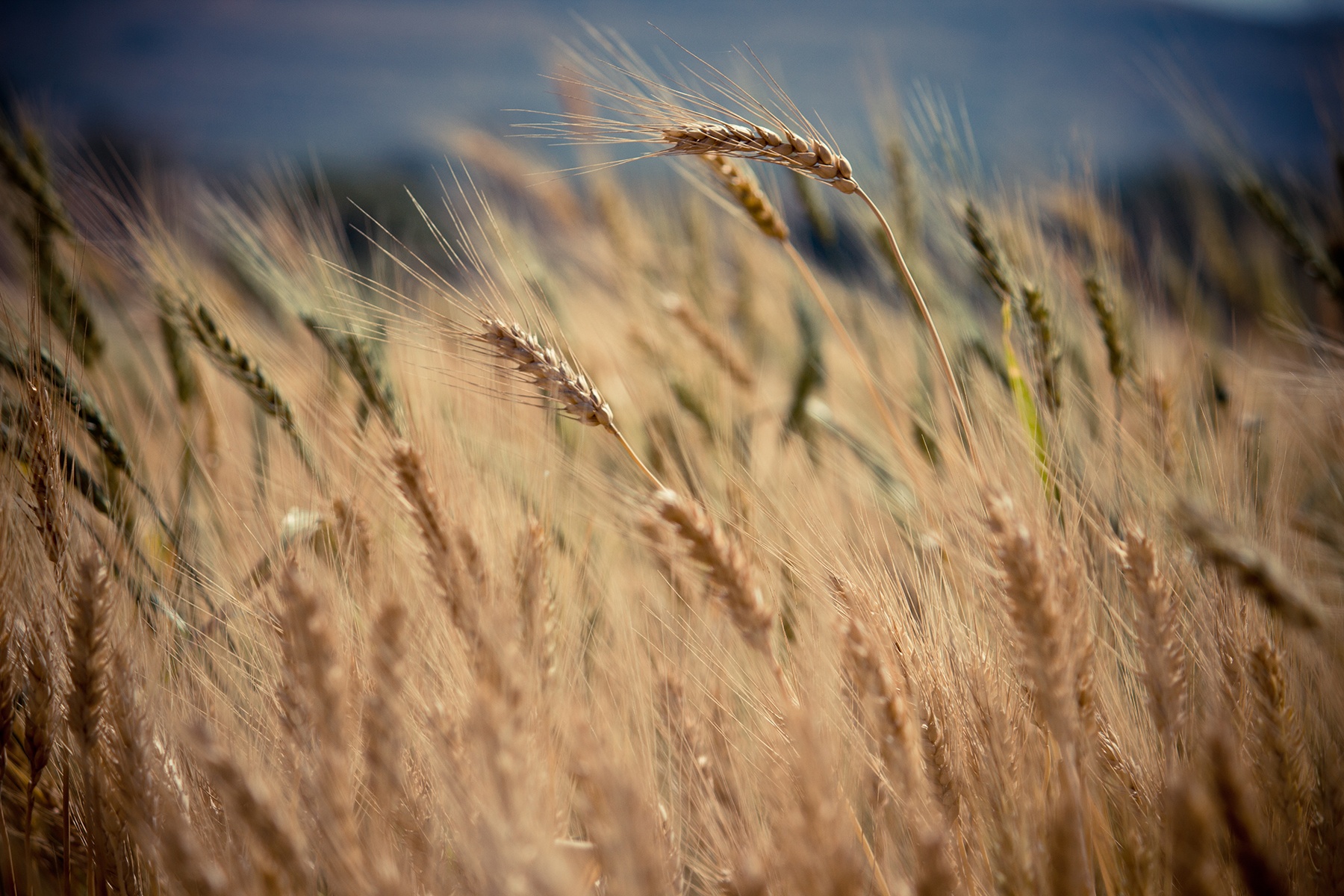 Ruth knew that the God of Israel had made a daily provision for the poor and the widows in the fields and she had faith in God's promises and provision.
God has given us so much in Christ - a brand new life, a new identity, a new destiny and purpose, His presence, promises, and wisdom.
Ruth went out to the fields by faith, praying that as a foreigner she would find grace and favor from the land owners.
So according to God's providence, Ruth started working in the field that belonged to Boaz and it just so happens that it was then that he arrives and sees her working in his field and wants to know who she is. His servant tells him that she is Ruth the Moabitess which means she is a foreigner and a Gentile, one outside of the covenant promises of Israel and a stranger to their God. As a non-Israelite, she does not anticipate any special treatment and probably expected the opposite.
But as we see in the story, she was amazed and humbled by the kindness of Boaz.
Boaz is described as a "an older man of great wealth and riches, and of great power and authority." In vv. 4 and 12, we can also see that he was a God-fearing man.
In the time of the judges, when so much evil and corruption existed, the way Boaz lived and treated his workers stood out from the rest. He cared about the welfare of his workers, meeting their needs, and treating them with dignity as those made in the image of God.
He knew Ruth's story and background and the virtuous decisions she made in the midst of her difficult circumstances. He addressed her as "my daughter" - a term of endearment. He treated her like family, guaranteed her protection, and encouraged her to take whatever she needed from his fields for the entire growing season.
The Bible says that we all were once strangers and aliens, outsiders without rights of citizenship in this land, far from God, we had nothing to give to Him. In this way, we can be compared to Ruth, who was a Moabite in a foreign land. If you are a Christian, however, the book of Ephesians says that you are no longer a stranger and foreigner but are now a fellow citizen with the saints (God's people), and a member of God's household, being built together with His people into His dwelling place (Ephesians 2:19, 22).
Throughout His Word, God tells us to be kind to foreigners and the marginalized - to people who can be easily taken advantage of.
People yearn for genuine love and kindness. This can only be expressed by those who understand God's grace because they have received it for themselves.
Ruth's faith and humility also revealed her Dependence on the Lord.
In verse 12, Boaz blessed Ruth with these words,
May the LORD, the God of Israel, under whose wings you have come to take refuge, reward you fully for what you have done (Ruth 2:12).
He was saying: You have left your home, your past, your natural security and identity and decided to follow the Lord God. May a full reward be given to you. May you be recompensed for placing your trust in the Lord.
Boaz urged Ruth not to go anywhere else to glean the barley, but to stay in his field, where her needs would be met (Ruth 2:14). He invited her to eat with him and she ate till she was satisfied - nourished and content. After working in the fields, Ruth left with a basket full of grain to share with Naomi.
Ruth's faith, humility, and dependence on the Lord were rewarded. Where do we go each day for our daily provision, to nourish our life? The God of the universe speaks to us each day. He tells us to come to Him, the Bread of Life, everyday, to receive what we need from Him for our lives.

There are no outsiders in the light of the cross. All are welcome to come, whatever their circumstances or background. Jesus Christ is our Redeemer, the Savior of the world and is ready to receive all who are thirsty into the family of God.
It was through Ruth's faith, humility and deep dependence on the Lord, that Naomi's eyes were again opened to recognize God's kindness, which is translated as His faithful love in action.
Naomi realized that He had ended the famine. He moved Ruth's heart to return with Naomi and care for her. It was the Lord who directed Ruth to the field of Boaz. Even though they left Moab empty, it was the Lord who providentially provided for their physical needs and will, as we will see, provide the solution through a kinsman redeemer.
I believe God always bring us back to this place time and time again. If you want to see the faithfulness of God then you have to take steps of faith, in humility and with deep dependence on the Lord.